A well trained and effective team of invigilators ensure that exams run smoothly and according to the required instructions for conducting exams
The Exams Office offers members a range of resources to support the recruitment, training and deployment of invigilators
Invigilator Training and Assessment Module
Invigilator Digital Accreditation (IDA)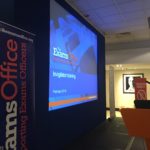 New invigilator training – free half day events for member centres offered in the spring term
Invigilator training (in house) – sessions for new and experienced invigilators offered by booking directly with a trainer (discounted rates for member centres)
Invigilation support resources
A suite of resources to support the recruitment, training and deployment of invigilators
Invigilator training videos
The Exams Office – in conjunction with OCR – provides a series of JCQ-compliant online video clips incorporating the latest rules and regulations relating to invigilation.

These are intended to support our members in training their invigilators
 The Exams Office is the only organisation providing exams officers with up-to-date online videos for use when training invigilators
The Exams Office takes no responsibility for any outcomes in centres as a result of the information provided on our website or within our documentation. It is the responsibility of centres to apply this information as they deem necessary within their own centre. You should always contact/refer to the relevant awarding body for the most accurate and up-to-date information regarding their qualifications.