Resources designed to support exams officers in managing and administering the examination process, to promote good practice and to save them time in their centre
THE EXAM CYCLE
The exams management and administration process that needs to be undertaken for each exam series is often referred to as the exam cycle and relevant tasks required within this grouped into the exam cycle stages:
PLANNING

ENTRIES

PRE-EXAMS (EXAM PREPARATION)

EXAM TIME

RESULTS and POST-RESULTS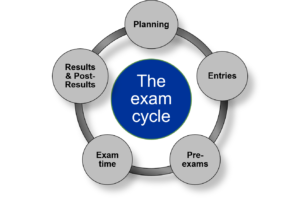 KEY DOCUMENTS – THE EXAM CYCLE
These are designed to support the identification and completion of key tasks through the exam cycle and are categorised by the stages of the cycle, intended to support exams officers in understanding when these could be useful during the exams management and administration process.
Guides and checklists provide overviews of processes and regulations, highlight key tasks and promote good practice
Templates provide a starting point for undertaking/completing a key task or process and may be customised for use in a centre
Additional documents – exam policy templates, those intended to support an exams review and termly checklists – are also provided.
Key documents are reviewed and updated each academic year
The Exams Office takes no responsibility for any outcomes in centres as a result of the information provided on our website, TEO Hub or within our documentation. It is the responsibility of schools/colleges to apply this information as they deem necessary within their own centre. You should always contact/refer to the relevant awarding body for the most accurate and up-to-date information regarding their qualifications.